INTRODUCING THE NEW HOME LIFT





General Information:



Our home lift is specially designed with the family in mind. Having a small area for installation and not needing a lift shaft characterize its creative design. Other advantages include low noise, high security, reliable operation and easy installation. It is most suitable for domestic housing, Villa accommodation and reply type residence. It is also the best choice for increasing the quality of life for the elderly and disabled personís by reducing the need to use tiresome and dangerous stairs.

Our home lift has been developed, designed and manufactured according to world home lift standards. It does not need a machine room and is a bottom drive traction type with frequency converter drive standard. A hydraulic option is currently under development. A lift shaft can be supplied for most applications and the requirement for no pit means minimal building works.

Using the most advanced technology available in the world today our home lift is extremely safe and reliable. Using equipment levels similar to that of a standard elevator you can expect the functions and leveling capability to be exceptional. Other standard inclusions consist of broken strand, lift overload alarm, dual door protection and touch screen control system.

For the owner there is also the additional function of being able to watch the operation of the lift when it is running via a monitor.

Swing door opening is the standard supplied with all lifts. Other door opening types include side opening and center opening with other variations possible by request..



Main Points
Environmentally Friendly: Electric consumption is equal to one refrigerator during normal usage.
Value: Excellent value for money when considering function against performance..
Ease of Installation: No requirement of lift shaft to be provided and no need for a lift pit.
Safety of Operation: Standard inclusions of many devices for passenger safety.
Design: Innovative design that that also allows for personalized specification.


Drive system:

Drive System: Frequency Inverter (V3F) Geared Traction Drive. Power Rating: Motor Power is 2.2KW/3HP Single Phase 220Volt/60hz, 240Volt/50Hz. Power Screw: System currently under Development.



Lift Cabin Design:



A wide choice of standard and architectural car finishes including painted steel, stainless steel, wooden and mirror finishes made to individual specifications is available.

A scenic cabin design is available can be combined with the any kind of decorated styles from other cabins.

Any specification inclusive of handrails, mirrors inclusive of etching can be provided.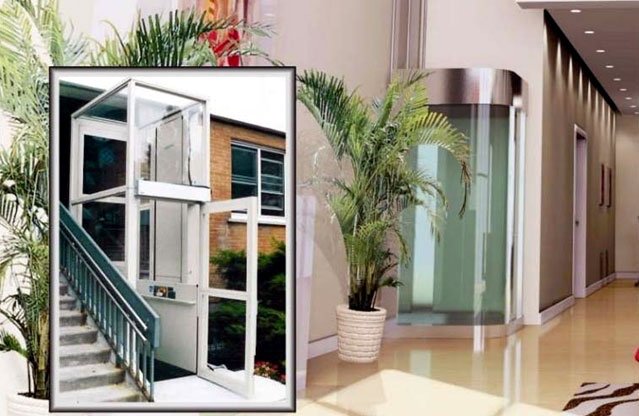 General Specification:
Traction type


1
Load (kg)
200kg 2 person
260kg 3 person
320kg 4 person
2
Cabin Door Opening mm (wxh)
750×1900
750×1900
800×1900
3
Cabin Dimensions mm (wxd)
900×800
1000×900
1100×950
4
Shaft Dimensions mm (wxd)
1300×1300
1400×1400
1500×1450
5
Top Floor Height (mm)
≥2800
6
Pit Depth (mm)
≥300
7
Landing Door Opening
Swing door
8
Use
All Domestic Applications
9
Drive System
Geared Traction Machine – Bottom Drive (machine room less MRL)
10
Speed m/s
0.15-0.4
11
Control System
AC V3F Frequency Converter PLC
12
Max. Stops
5
13
Maximum Travel mm
18,000
14
Motor Power (kw/hp)
2.2/3.0
15
Power Supply
Single-Phase 220Volt/60HZ - 240Volt/50Hz (Nominal Current 10A) (3 phase available)
Functions: